I'm a huge fan of outsourcing and automating everything, even rarely used tools like faxing. Time is my most valuable resource: and although I'm far from perfect at this, I try to eliminate, automate, or delegate everything that isn't essential for me to do.
Here is a snapshot of the toolkit I use to automate personal finance.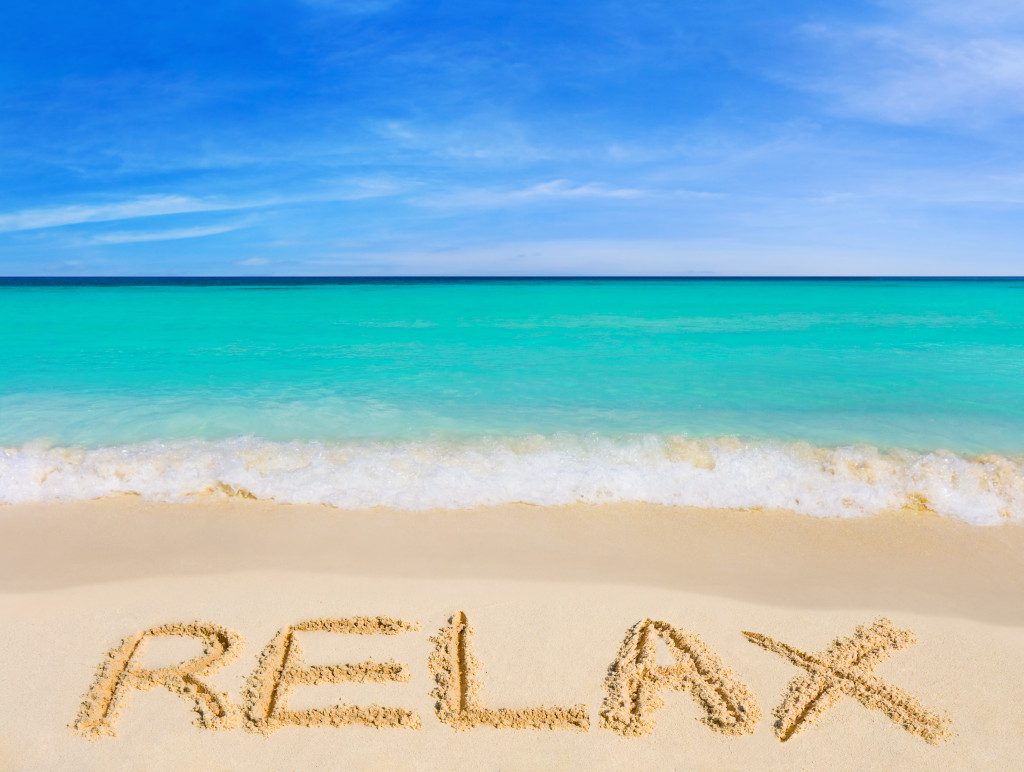 Automate All Bill Payments
Do you spend any time manually paying bills each month? YES! You can automate this and, if you are near a beach, you can write "relax" in the sand just like the above photo with all of your extra time.
All credit card payments can be automated. Login to your credit cards online portal and setup auto-pay; pay the full balance off every month.
Do you need to write a check for rent or other expenses? This can be automated as well. Most banks allow you to schedule a monthly recurring checks to residential or business addresses. If your bank does not allow for this, find another that does (Bank of America or PNC is great in this regard).

Does the monthly cost of the service fluctuate? Ask the provider if you can negotiate a flat monthly fee and settle up any balance differences on a quarterly, bi-yearly, or (best of all) a yearly basis.
Is the provider not keen with a flat fee? Ask if you can pay a flat fee above the monthly average and then deduct any overpayment from the last payment in each quarter/year. If he's not willing to work with you here – find another provider. It's not worth your time to have to remember to pay that one extra bill. Your goal is complete financial automation!

Need to pay friends or family for a meal or other event? Use Cash.me to sent payment when it's needed, rather than having to remember later. No fees, easy to setup, and money is transferred directly into the recipients bank account.
Some services (ex: car insurance) allow for quarterly payments, often with a discount. Leverage financial discipline to pre-pay for these expenses, saving on the total cost of the service and eliminating the need to remember to pay every month.
Tracking Spending Across All Accounts
I aggregate transactions across all accounts (checking, savings, credit cards, investments, etc) into a single system. This means I never have to login to individual accounts. I only login to a single account.
There are a bunch of systems out there for this, I use Mint. Here's how to use Mint to implement a budget:
Create a detailed budget in a google sheet.
Recreate the budget in your google sheet in Mint. You will need to consolidate certain budget categories into a larger budget item to reduce the transaction categorization time in mint.

For instance, you might have a "health insurance" and "gym" budget in your google sheet. I would recommend managing that as a single budget item in Mint "Health". I find it's easier to have fewer categories, Mint does better at auto-categorizing transactions with fewer categories.

Check how you are doing against your budget on a weekly, bi-weekly, or even monthly basis. As you start to move closer to your ideal budget, you can check your Mint account less – further freeing up more time and clearing your mind of the mental clutter of worrying about making sure finances are taken care of.
A side benefit here is it makes it possibly to easily scale the number of accounts you have without it becoming more time consuming or complicated to manage. This is very useful if you are looking to churn cards to make thousands per year.
Automated Savings & Investing
Constraints create results.
Remember when you were under a hard deadline? You completed the project.
If there is one concept from Rich Dad, Poor Dad that is worth remembering, it's pay yourself first: contribute to retirement and savings, and figure out how to make the rest of your monthly expenses fit into what is left over.
Automating your savings and investment contributions at the beginning of your pay period eliminates the possibility that you'll spend money earmarked for investment and savings. Here's how to set it up:
Open a Betterment account. It will withdraw your investment contribution on a weekly basis. A weekly contribution will enable you to view your retirement contribution in the weekly financial email report that Mint sends.

Betterment is a great service – software based automated investing. Set your risk tolerance, and Betterment will automatically rebalance your portfolio and harvest any tax benefits from selling losses. It's not a "perfect" portfolio, but it's automated, a bit better than a standard Vanguard account, and gets you 80% of the results with very little effort.

Open a high yield savings account. Although rates are still very low, they yield 5-10x the standard savings account and as interest rates rise the delta between a online-only high-interest savings account will only increase. Plus, online-only savings accounts have more advanced automatic contribution functionality compared to traditional banks.
Obviously, I am not offering professional advice. Don't trust anything that is written here. This just is a summary of what I've learned and what has worked for me last couple years.